Swarovski icicle necklace

Swarovski Crystal Icicles-Gold tone Chain
no chain...$13 gold tone chain...$17sterling chain....$20...matching earrings $20

Dazzling "icicles" composed of a variety of beautiful combinations of Swarovski Crystals and Czech glass pearls from 1.5 to 1.75 inches long. Hanging on 18 inch Gold tone or Sterling Silver chains, these slender pieces will be sure to glamorize and be-dazzle m'lady. A unique, beautiful, yet inexpensive gift for yourself or someone you care about.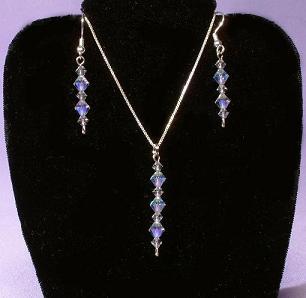 Choose your own colors from Sparkle's crystal jewel box:
Styles available:Light purple aurora set on stand A-Clear alternating 4&6mm crystals;B-Clear 4mm crystals;C-Clear and smokey alternating 6mm crystals;D-Multicolor 4mm crystals;E-Alternating clear and jet 4mm crystals;F-Clear and light purple alternating 4mm crystals;G-Alternating smokey 6mm crystals and glass pearls;H-Clear and alternating royal blue 4mm crystals, and icicles of pure color from the jewel box.
To order an icicle with gold tone chain, use "add to cart" button on this page.
You will return to the main icicle page after ordering. If this order is a gift you would like us to send for you, click on link below after checking out and returning.
If you would like us to include a note with a gift order to be sent for you, please link to order information page to send us necessary information. Thank you. gift order information